About Me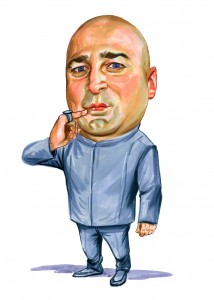 Name: Trevor 'Toe Cracker' Crook

Trevor Crook has been called the Crocodile Dundee of direct response copywriters due to giving his global clients the biggest advertising knife, so they can slash their competitors in half and leave them feeling like they're a one legged duck swimming in a crocodile infested creek.
Trevor Crook is a world class, in demand – direct response copywriter, mentor, author and international speaker who helps business owners and entrepreneurs to ignite their sales and profits using sizzling sales copy for online and off-line marketing strategies.
He has written sales copy for 2 people from the very success life changing movie – 'The Secret'.
Originally from Brisbane, Australia He now calls Los Angeles home. Trevor is blunt, brutal and does not sugar coat anything for anyone. He is well known for his 'No B.S.' style lives up to his 'ToeCracker' name due to the fact he tells his client's exactly like it is and smashes them between their eyes, like a sledgehammer smashing a pea . . . with brutal honesty when he critiques their sale copy or provides mentoring and coaching.
He has the uncanny ability to deliver cash generating information to you in such a simple, 'straight between the eyes' way in a matter of minutes, which will have you glued to your seat.
Trevor Crook has personally interviewed over 7,000 business owners and entrepreneurs, dealt with over 250 industries and spoke to audiences all over America, London, The U.K., Australia and Scotland so if Trevor hasn't covered your business – it's a good bet he's gone pretty close to it.
Trevor has written written simple 1-2 page letters, several have achieved a staggering 8% responses or more just from one letter! A simple one page letter which cost his client $1,650 in advertising costs, generated approx. $200,000 the very first time he used it. Another 2 page letter generated $4.0 million for another client.
One website client, increased sales $2.159 million p.a. in 30 days after a 20 minute Coaching call and website critique with Trevor. Another increased conversions 800% from adding just one 4 letter word to his headline. Many, double and quadruple their traffic and conversion based on the words he creates for: newspaper adverts, yellow page adverts, magazine ads, sales letters, fliers, brochures, website sales copy and complete marketing systems. <!–[endif]–>
His breakthrough advertising strategies show you how you can add just one letter, one word or make just one small change to your existing advertising or marketing which can double, triple or quadruple your response, without increasing your advertising and marketing costs. Business owners and entrepreneurs who have applied these strategies increased their responses up to 1700% or more.

Clients regularly double and triple their results in record time. One of killer 2 page letters for a client generated $24.21 in sales for every letter mailed, another letter generated $581,250 in less than 90 days for another client and the adverts and sale letters and website sales copy Trevor has created for his clients – collectively, have generated millions and millions of dollars in sales. His clients who happily pay his fees plus royalties for any copywriting projects he creates for them.
Read what just a small selection of Trevor's happy customers are saying about him on the Testimonial Page.
Enjoy the Trevor Crook Blog and you are urged to make comments and posts and tell your friends and business associates.
"Dedicated to kicking your ass until you succeed."
Warmly