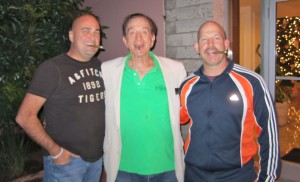 Are you so close, yet you have no cigar to celebrate . . . when it comes to huge success in your business?
You could be so close to major success in your business, yet so far away, without evening realizing it. I don't know if this pisses you off or not – it should though.
You see, over the last 10 years, I have helped so many entrepreneurs, people just like you to at least double or triple their sales without increasing their marketing costs. And this is where I want to help you. Before I do, I want to tell you a quick story.
Last year, I was sitting in a client's office, reviewing their advertising material and what I saw was more obvious than a festering pimple in the middle of your forehead . . . which was so big, it looked like Mt. Everest was sticking out.
There were 2 major mistakes, Continue reading →
I was sitting watching television last night & one particular story grabbed my attention.
It was a story about a former high profile T.V. show host who, to be honest is now probably considered to be past his used by date.
You might even consider him a 'has been' these days.
Now . . . what was so interesting about this story was the that this guy had been paid a motza of money to tell the 'world' that . . . he could no longer get it up!
That's right . . . No more erections! No more boners!
His 'old fella' was more asleep than a coma victim. Continue reading →
You have choices how you get your inspiration. For many of you, quotes work and here's 16 more success quotes. As former Canadian Hockey Player rifle puts it -  "Success is not the result of spontaneous combustion. You must set yourself on fire."
So, go ahead, set yourself on fire with these 16 Success quotes. Continue reading →
This morning after I had breakfast with Matt Furey, the Zen Master of the Internet, something happened and he punched my several times. Watch and listen to this video to discover why.
http://budurl.com/PunchedbyMattFurey
Dedicated to kicking your ass until you succeed!
Warmly
Trevor 'ToeCracker' Crook
PS. The Furey barrage of punches from simply made me smile
Yes, I'm tired, cranky but I had to tell you this now.
I am tired due to lack of sleep, as I have slept 5 hours in 2 days so I am more like a grizzly bear with a hangover and I am getting crankier by the minute yet I feel compelled to write this now.
I am removing all liability from what I say here due to sleep deprivation.
Read on at your own risk.
It'll be worth it.
I was talking to a new client recently about a few aspects when he casually mentioned he was paying $500 per month for yet another 'magic' pill which some bloody guru wanker had paid a kick butt copywriter to create a sizzling sales letter which was more slick than paddock full of B.S. Continue reading →
Over history, many of America's former Presidents and even their wives, have made famous quotes . . . ones which have helped shape America to what it is today.
The question remains:
"Will Barack Obama or John McCain say something so powerful, they will be remembered for it in 50- 100 years time and help change history?" Continue reading →