It Wasn't The Dog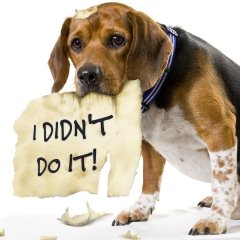 When I was a small child, our family dog Mitzi, got blamed for everything, especially by my Dad for farting.
I remember being 8 years old, siting in the back seat of the family car, while we were driving 1200 miles to see my Grandpa.
I was very excited, as this was going to be the first time I'd met him. We had been driving a few hours, when my Mom suddenly yelled at my father and said: "Jim, that's bloody disgusting!"
Dad's reply was quick.
What, It wasn't me, it was the dog. By the time he said that, the vile smell had wafted to the back seat of the car and all 3 of us kids were wanting fresh . . . FAST!
We couldn't wind down the windows fast enough. After we'd finished choking, I said to my Dad: But the dog isn't with us!
I was confused, after all, I was only 8 years old. After the dog got blamed several more times on that trip, I got it. My Dad was simply blaming the dog for him 'letting one rip' with enough power to peel paint off the walls.
In 1975, we moved from Australia to Malaysia for 2 and a half years and event though we didn't take the dog  . . . she still got blamed for many things.
You may be wondering, what the heck this has to do with marketing and business. It has everything as you'll soon. It has soon find out!
When I was in high school, I blamed the dog for chewing up a paper I was supposed to hand in, even though the dog had been dead for years.
Fast forward to today and in business, too many people are blaming the dog – even if if they don't own one.
They blame the dog for their lack of success, their excuses for not doing what needs to be done, for not getting off their lazy asses and just doing it.
If you've ever read one of the sentences in my letters, in the guarantee it usually says: " You do not need a dog ate my homework story." Which means, you do not need an excuse.
When it comes to your business, are you having the results you truly want or are you simply living life with a whole pile of 'reasons' for not being the success you want to be.
Instead, content to talk a lot about what you are going to do with your business and blame the dog while yet another year passes you buy with little or no results. I'm taking my gloves off with you because, I'm guessing I'm more passionate about your success than you are and I want to do something about it.
It's easy to blame the economy, not having enough money to do marketing or to say you tried something but it didn't work.
And that's pure bullshit!
Look, The economy doesn't SUCK!, business doesn't SUCK! and marketing doesn't SUCK!
YOU SUCK!
Harsh, yet true.
It's time people
shut up, stop bitching
and
moaning
and take full responsibility and get a life. A life full of abundance.
And this is where I want to help you.
Now, you may think you know it all, after all, you've studied this and that, been to seminars and even written your own sales letter or 2. Unless you have put into practice all of you're knowledge, you know nothing.
In 2011, you can transform your business into everything you've ever dreamed it could be and it all starts here, with my help.
To get the full story, click below:
Dedicated to kicking your ass until you succeed.
Warmly
Trevor 'Toecracker' Crook
PS. I've been blaming the dog for many years and finally stopped and when I did, my entire life changed. Now it's your turn, with my help. Click Below.
No related posts.
Related posts brought to you by Yet Another Related Posts Plugin.
One Response to It Wasn't The Dog