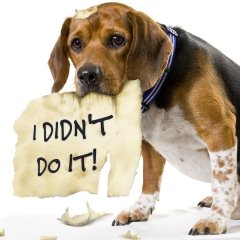 When I was a small child, our family dog Mitzi, got blamed for everything, especially by my Dad for farting.
I remember being 8 years old, siting in the back seat of the family car, while we were driving 1200 miles to see my Grandpa.
I was very excited, as this was going to be the first time I'd met him. We had been driving a few hours, when my Mom suddenly yelled at my father and said: "Jim, that's bloody disgusting!"
Dad's reply was quick.
What, It wasn't me, it was the dog. By the time he said that, the vile smell had wafted to the back seat of the car and all 3 of us kids were wanting fresh . . . FAST!
We couldn't wind down the windows fast enough. After we'd finished choking, I said to my Dad: But the dog isn't with us!
I was confused, after all, I was only 8 years old. After the dog got blamed several more times on that trip, I got it. My Dad was simply blaming the dog for him 'letting one rip' with enough power to peel paint off the walls.
In 1975, we moved from Australia to Malaysia for 2 and a half years and event though we didn't take the dog  . . . she still got blamed for many things.
You may be wondering, what the heck this has to do with marketing and business. It has everything as you'll soon. It has
Continue reading