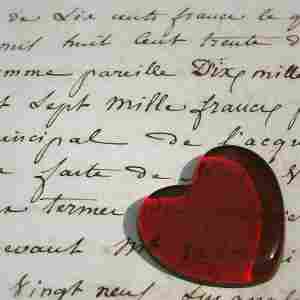 With all of the sales hype which comes with Christmas every year . . . where shops have sale upon sale and people over spend, buying gifts which in many cases, is not much more than buying love, it's all too easy to not even think about what the best Christmas present you could ever give is . . . and one which is FREE!
Now don't get me wrong, giving and receiving great gifts at Christmas in a wonderful feeling . . . however I can 100% guarantee you, your best ever present for your loved ones is locked away inside of your heart, just bursting to get out. All you need is a notepad and a pen. This gift, is more precious than the shiniest diamond, a new car, an iphone, ipad, clothing, shoes, games and anything else you think is the best gift.
Your loved ones may have even given you  a list of what they want for Christmas. I know though, if you take the time to do what I'm about to reveal to you, your relationship with your loved ones will be stronger than ever before and perhaps heal old wounds which run very deep.
Even the men reading this, the toughest guys, take note of what I am saying and get in touch with your emotions for once in your life.
Just recently, a good friend was in such a bad way in his marriage, he wanted a divorce and had said this to his wife. I invited him to Continue reading →
2 days ago, I was personally attacked by Matt Furey. Not physically . . .  in writing all over the internet. Below is what he said, word for word.
Read it and you decide.
"Everyone knows someone who is so incorrigibly pathetic in matters of health and fitness that you may as well save your breath. To encourage would only leave you Discouraged. Such is what I once thought of Trevor Crook – the self-exclaimed "Don Juan from Down Under."
If I were to give him a title it would be "The Biggest Lusher. "
Yes, you read that correctly.
He's a lusher.
And it doesn't end there because when he's not drinking he's eating – or mating.
Yet, perhaps I have extraordinary powers of persuasion as this lusher from down under, Mr. Crook, got off his ass and began following my advice that goes into the new product I'm launching tomorrow.
And guess what happened to Mr. Crook? He dropped inches and pounds – without adjusting his deleterious and detrimental habits one bit. He simply added one positive to his life and the rest is being put into balance.
Imagine that. I must say I'm damn proud of Mr. Crook. If this guy can add one life-changing positive to his life, what about you? So tune in and get ready to seize the day – and the program being offered:
The Fastest Way Humanly Possible to Burn Fat. Even if you're a "lusher."
Best,
Matt Furey

What do you think? I'm sure you know, I love my beer, food and lady friends – not necessarily in that order. A few months ago, I was going through some photos from my 45th birthday earlier this year and all I hated what I saw!
I looked like most  Americans. I was fat – no question about it.
I guess when you drink  50 pints of beer a weeks on quiet week and much more when I'm thirsty  . . . eat badly and the only weight training I use to do was bending the elbow to slam another pint down my throat . . . it stands to reason why I was in serious danger of needing to stand in front of the mirror to see my meat 'n' potatoes.
I decided it was time to get my fat ass back into shape which is something I've tried in the past and failed at because I just couldn't give up the booze long enough to get any real results.
My mate, Matt Furey asked me: "What if you could still drink like a fish, eat like a pig yet burn fat at an alarming rate and put muscle on . . . would I do it?"

Hell yes was my reply.
I followed his advise and I'm melting fat like a hot knife goes through frozen butter, getting leaner and leaner plus putting muscle on.
I can now wear a shirt I haven't been able to wear for 4 years, all of my jeans are loose, I've had to add an extra 2 notches in my belt and I'm so bloody horny. . . if the wind blows, mini me reacts.
To get the full story . . . click below.