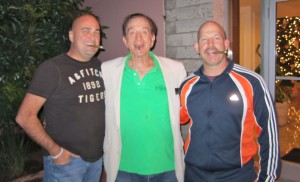 Are you so close, yet you have no cigar to celebrate . . . when it comes to huge success in your business?
You could be so close to major success in your business, yet so far away, without evening realizing it. I don't know if this pisses you off or not – it should though.
You see, over the last 10 years, I have helped so many entrepreneurs, people just like you to at least double or triple their sales without increasing their marketing costs. And this is where I want to help you. Before I do, I want to tell you a quick story.
Last year, I was sitting in a client's office, reviewing their advertising material and what I saw was more obvious than a festering pimple in the middle of your forehead . . . which was so big, it looked like Mt. Everest was sticking out.
There were 2 major mistakes, Continue reading →
You may have seen the movie – 'The Hangover' which to me was very funny. 2 months after watching the movie, I had my own real life hangover experience in Vegas, just like in the movie.
It happened on my birthday. I had been out partying with friends who picked me up in a stretch limo, we went to dinner and then back to the Wynn where the drinks went down quicker than a hooker on the strip.
I remember getting back to my hotel room around 3am and passing out. A couple of hours later, I woke up, needing to pee.
I got out of bed in a drunken stupor and opened what I thought was the bathroom door when and all of a sudden . . . I heard the door click behind me.
Suddendly, I am standing stark naked outside of my hotel room in the hallway.
Fair dinkum, it's bloody amazing how quickly you can sober up. Now, I needed to drain the lizard badly . . . however my first thought was . . . how the fuck do I get back in.
While pondering outside my door, 2 lots of people walked past and wanted to know WTF I was standing outside naked for . . . so I told them which gave them a huge laugh.
I decided, the only thing I could do was to go to the front desk and hoped I wouldn't get arrested for being naked in a public place.
I started the long walk towards the elevators, not bothering to cover up my meat and potatoes. As I pressed the down button, I noticed a wall phone on the other side about 2 feet off the ground.
I squatted down, called reception and explained my situation. The lady said to go back and wait by my door for security to arrive – which I did.
I was standing outside my door, with my arms folded when a hot blond and her friend walked by.
What happened next left me speechless . . . Continue reading →